Course: First Responder Awareness Level Training
Requirement: OSHA 1910.120(q)
Duration: 8 Hours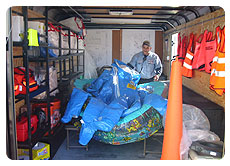 Description: This course is designed to meet the requirements of OSHA for training of first responder awareness level personnel. These are individuals who are likely to witness or discover a hazardous substance release and who have been trained to initiate an emergency response sequence by notifying the authorities of the release. First responders at the awareness level shall have sufficient training (minimum training required is OSHA 1910.120 which is the "Employee right to know" standard) or have had sufficient experience to objectively demonstrate competency in the areas this course covers.
Scope: This course covers:
Understanding what hazardous substances are, and the risks associated with them in an incident.
Understanding the potential outcomes associated with an emergency created when hazardous substances are present.
Recognizing the presence of hazardous substances in an emergency.
Identifying the hazardous substances, if possible.
Understanding basic hazardous terms.
Understanding the role of the first responder awareness individual in the employer's emergency response plan including site security and control, and the U.S. Department of Transportation's Emergency Response Guidebook.
Realizing the need for additional resources, and making appropriate notifications to the communication center.
Who should attend:
Members of management, engineering, maintenance, refrigeration, safety, production, human resources and security. A good cross section can contribute greatly to the overall effectiveness of any emergency response team.
​