40 Hour HAZWOPER Training
40 Hour On-Site HAZWOPER Course
40 Hour HAZWOPER Training
This course is designed to meet the requirements of OSHA for training of emergency response personnel who will respond to leaks or spills of chemicals for the purpose of stopping the leak or spill. It can be tailored to other specific chemicals in your workplace. OSHA requires that all personnel who are expected to respond to spills or leaks must have this training.
This course covers:
Procedures for handling emergency responses
Written emergency response plans
Hazards confronting responders
Material Safety Data Sheets and Terms
Health effects of Chemicals
How to prepare for emergencies
How to decontaminate responders and clean up spills
Protective clothing
Self Contained Breathing Apparatuses (SCBA's) and Respirators
In Depth Reporting requirements
On Site Surveys
Placards
Dot Guidebooks
Members of management, engineering, maintenance, refrigeration, safety,
production, human resources and security. A good cross section can contribute
greatly to the overall effectiveness of any emergency response team.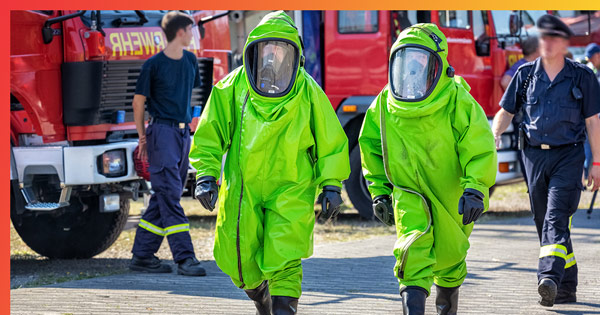 Ready to get started? Our team is standing by to help with your hazmat training needs.